The 2017 Nissan GT-R. One Man. One Engine. Handcrafted -- From start to finish, each GT-R engine is handcrafted by its own master engine-builder in a climate-controlled ''clean room.'' Each twin-turbo V6 is precisely assembled from lightweight, highly durable aluminum and magnesium parts. It takes the exacting standards of the plant's most talented and devoted engine builders to produce the engine that has redefined what a supercar can be.
NISSAN GT-R - EXTERIOR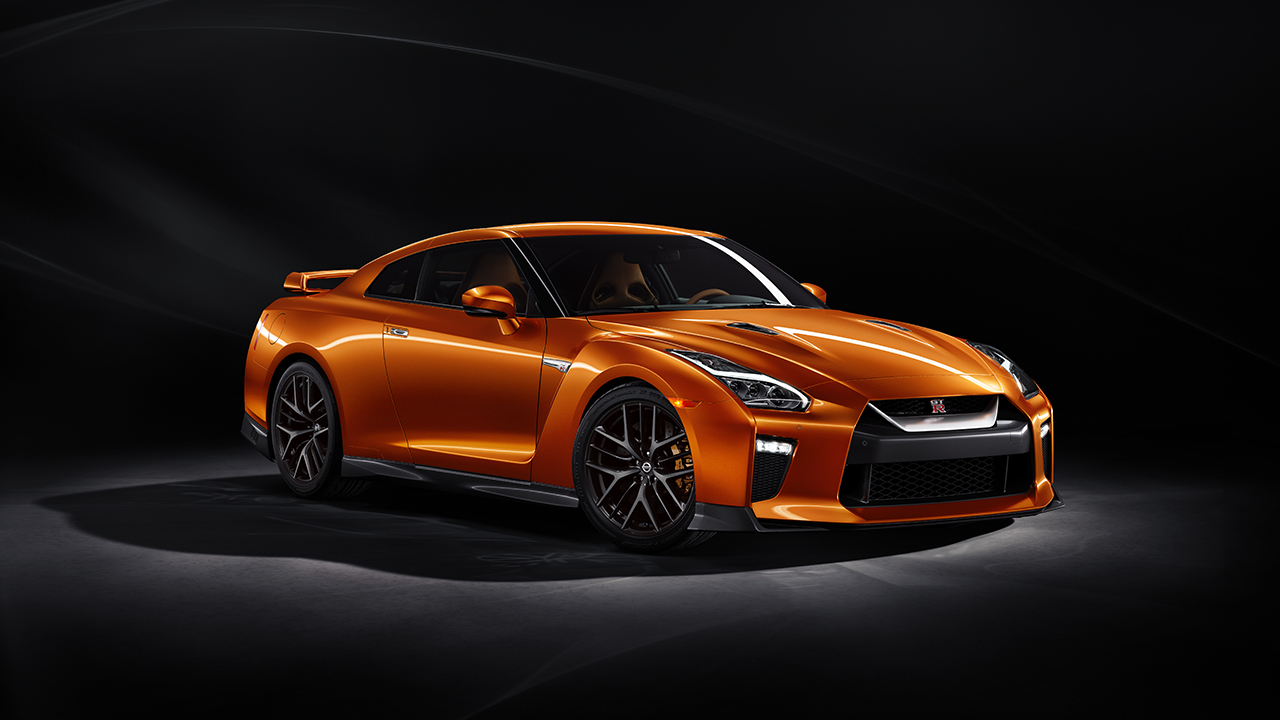 The new GT-R's exterior gets a complete makeover across the front end. The distinctive grille has been enlarged to increase airflow to cool the engine without creating additional drag, and the refined shape blends smoothly with the more structurally rigid hood. By essentially eliminating hood deformation, testing has shown that the new hood design greatly improves aerodynamic performance at the front of the vehicle at high speeds. The GT-R Track Edition departs from the Premium model by incorporating the GT-R NISMO's wide front fenders.
Nearly all of the visual changes made to the GT-R's exterior were intended to improve aerodynamic performance, more specifically, aerodynamic efficiency was enhanced in three key areas: downforce generation, drag reduction and improved cooling of vital vehicle systems. The goal was to maximize cooling airflow, while at the same time keeping aerodynamic drag in check (for example, not increasing drag in one area of the vehicle as a result of improving cooling performance/airflow in another).
In the rear, all 2017 GT-R models continue to be defined by the iconic round taillights, but a new silver-finish diffuser and new side air vents have been incorporated next to the quad titanium exhaust tips to improve the car's aerodynamics. Also, the character line that separates the lower black section from the body panel has been heightened to make the car look wider and more aggressive.
The rear bumper section incorporates the same design featured on the GT-R NISMO for better routing of air at the lower portion of the rear of the vehicle. This leads to less interference between the exhaust gases exiting the tailpipes and airflow along the rear side portions of the bumper for improved heat evacuation. The coefficient of drag is 0.26. NISMO 20-inch 6-spoke forged alloy wheels with black finish offer light weight (0.5-inch wider in front than Premium models), strength and rigidity and are finished off with NISMO-spec nitrogen-filled Dunlop® Sports Maxx GT600 ultra high performance run-flat tires.
NISSAN GT-R - INTERIOR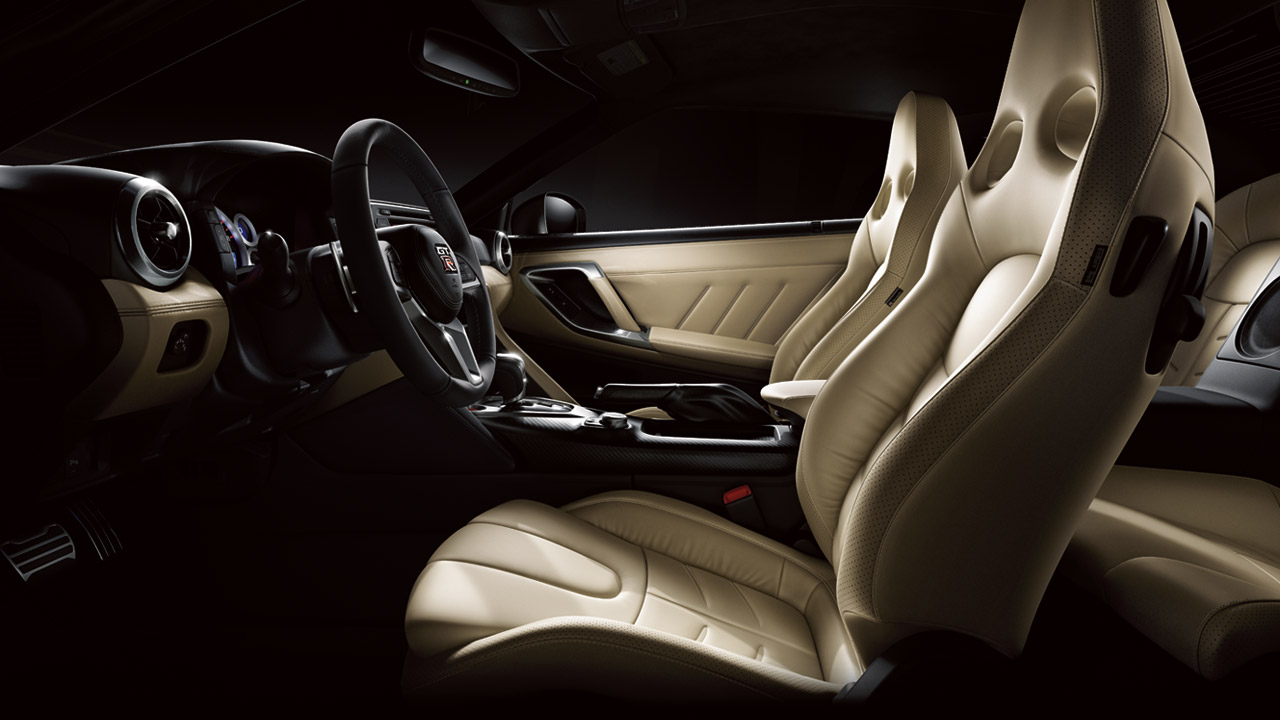 The GT-R Track Edition's sporty red and black interior treatment delivers an unparalleled degree of comfort, luxury and everyday usability. The dashboard adopts a ''horizontal flow'' to deliver a sense of high stability for the car's front-seat occupants, while the line from the instrument cluster to the center console provides a distinct driver-oriented environment for those behind the steering wheel. Ergonomically sculpted, heated, reclining and leather-appointed RECARO® front seats are standard on the Track Edition.
The center stack layout has been improved and simplified, with the number of integrated navigation and audio controls reduced from 27 switches in the previous model to only 11 in the 2017 version. The navigation system controls and display have been placed slightly lower on the instrument panel for easier use and better forward visibility for both the driver and front passenger. Also, the redesigned navigation system layout has been improved and the dials are now machined from real aluminum alloy for better feel and operation.
An enlarged 8-inch touch panel monitor features large icons on the display screen to allow the user to easily manage the audio system, navigation system, telephone controls and other infotainment functions.
Every 2017 GT-R comes with standard NissanConnectSM with Navigation, Mobile Apps and Services Navigation system featuring 8.0-inch color display with multi-touch control, Nissan Voice Recognition for navigation and audio, HD Radio, SiriusXM® Satellite Radio, SiriusXM® Traffic, SiriusXM® Travel LinkÔ (weather, fuel prices, movie listings, stock info and sports) (SiriusXM® subscription required, sold separately), Bluetooth® Hands-free Phone System, Streaming audio via Bluetooth®, Hands-free Text Messaging Assistant, NissanConnect Mobile Apps and NissanConnect Services Powered by SiriusXM® (SiriusXM® subscription required, sold separately). A Display Command control on the carbon-fiber center console allows easy operation without having to touch the monitor.
Other convenient information features include an innovative multi-function meter that allows the driver to customize the layout of important vehicle-specific performance parameters/information, such as coolant temperature, engine oil temperature, engine oil pressure, transmission oil temperature, transmission oil pressure and turbocharger boost pressure.
NISSAN GT-R - MECHANICAL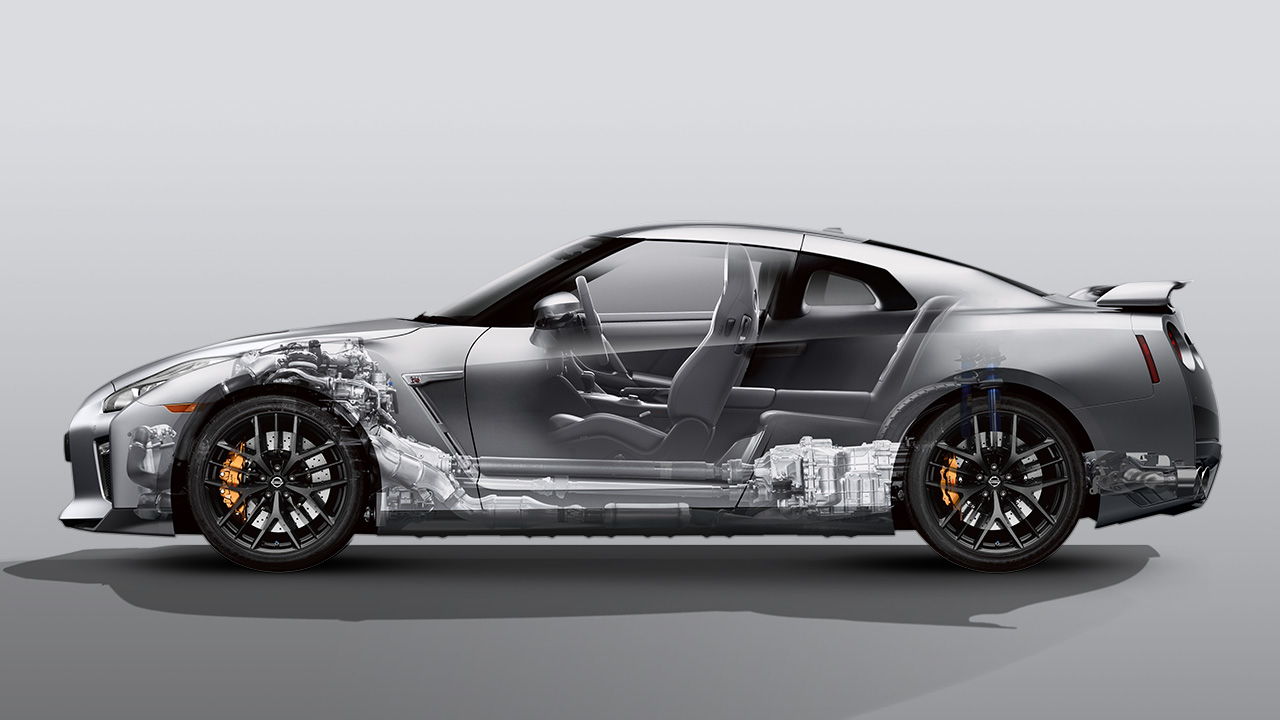 CLOSED DECK AND LADDER FRAME STRUCTURE: The cylinder block features a closed deck for strength. For increased strength, a ladder frame structure was also adopted to give the crankshaft added support, important with the engine's massive torque. Magnesium alloy was selected for the oil pan and rocker cover for its light weight and strength.
INDEPENDENT INTAKE AND EXHAUST SYSTEM: For higher horsepower and better response than a naturally aspirated engine, each side of the VR38 features it's own turbocharger, intercooler, and catalyst. By employing an independent intake and exhaust system for each side of the V6, intake air flow is increased and exhaust back-pressure is decreased.
PLASMA COATING BORE: Innovative plasma-sprayed bores are used in each cylinder instead of traditional cast-iron liners. This enhances cooling, reduces friction and weight while maximizing horsepower and increasing fuel-efficiency. Compared to the cast-iron liner, the overall weight decreased by approximately 6.6 lbs.
OIL COOLER WITH THERMOSTAT: For optimal control of engine cooling, the VR38 features a thermostatically controlled oil cooler system. A scavenger pump is employed to help keep oil flowing to the turbochargers, even during the strong lateral Gs experienced on a racecourse.
NISSAN GT-R - PERFORMANCE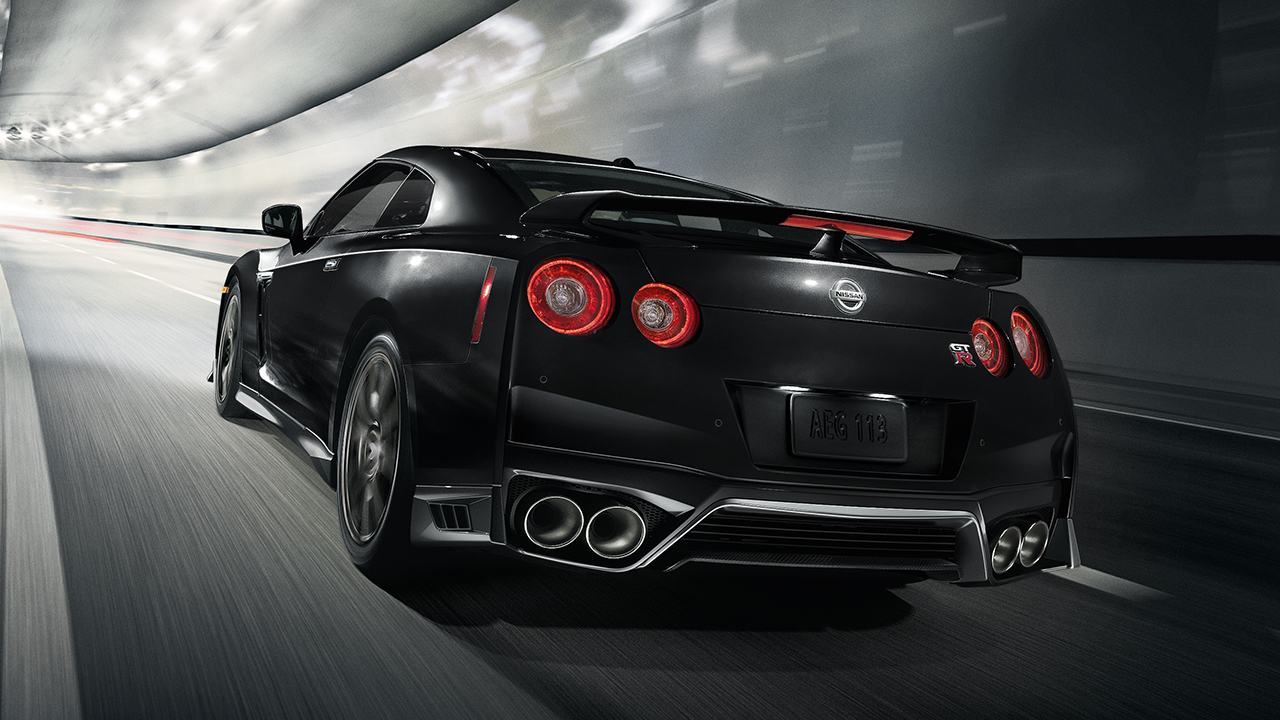 565-Horsepower Twin-Turbo 3.8-liter V6
The 2017 GT-R Track Edition utilizes Nissan's award-winning 3.8-liter V6 24-valve twin-turbocharged engine – each unit handcrafted by its own specially trained technician known as Takumi. The engine delivers 565 horsepower at 6800 rpm and 467 lb-ft of torque, representing an increase of 20 HP and 4 lb-ft, respectively (versus the 2016 GT-R). Power increases are due in part to an increase in boost pressure and an ignition-timing system controlled at each individual cylinder – technology previously reserved for the GT-R NISMO.
The changes result in improved acceleration in the mid-range (3200 rpm and above) with maximum torque output available across a wider range of the powerband. Also like the GT-R NISMO, by more precisely controlling ignition timing at each cylinder, engine knock has been significantly reduced while concurrently enhancing environmental performance through a cleaner, more efficient fuel burn.
Dubbed the ''VR38DETT,'' the engine features plasma-sprayed bores (versus cast iron liners) for reduced friction and weight, enhanced cooling, superior power output and increased fuel efficiency. It also boasts a symmetrical independent intake and exhaust manifold system with twin high-performance turbochargers, a secondary air management system for improved cold-start emissions performance, a thermostatically controlled oil-cooling system, an oil scavenger pump to maintain oil flowing to the turbochargers, and a lateral wet and dry sump oiling system.
Each engine is hand-assembled from beginning to end in a special clean room by highly skilled technicians. An aluminum plate is added to the front of each engine showing the name of the Takumi engine craftsman.
The GT-R Track Edition features a standard titanium exhaust system that better manages the high temperatures of the exhaust gases from the engine versus a non-titanium design. The system includes a duct on the vehicle's undertray just forward of the muffler, which guides air into the rear diffuser section to help cool the muffler and evacuate hot air.
Engine power is transferred to all four of the GT-R's wheels via the world's first independent rear transaxle, the ATTESA E-TS all-wheel drive system. During normal driving, the GT-R behaves like a rear-drive vehicle, with the torque split set at 0:100, but it can be automatically diverted up to 50:50 depending on speed, lateral acceleration, steering angle, tire slip, road surface and yaw rate. A special GT-R-specific yaw-rate feedback control measures the differences between the target yaw rate calculated from the steering angle and actual yaw rate detected by the yaw-rate sensor and G sensor, and adjusts the torque bias accordingly.
NISSAN GT-R - SAFETY AND SECURITY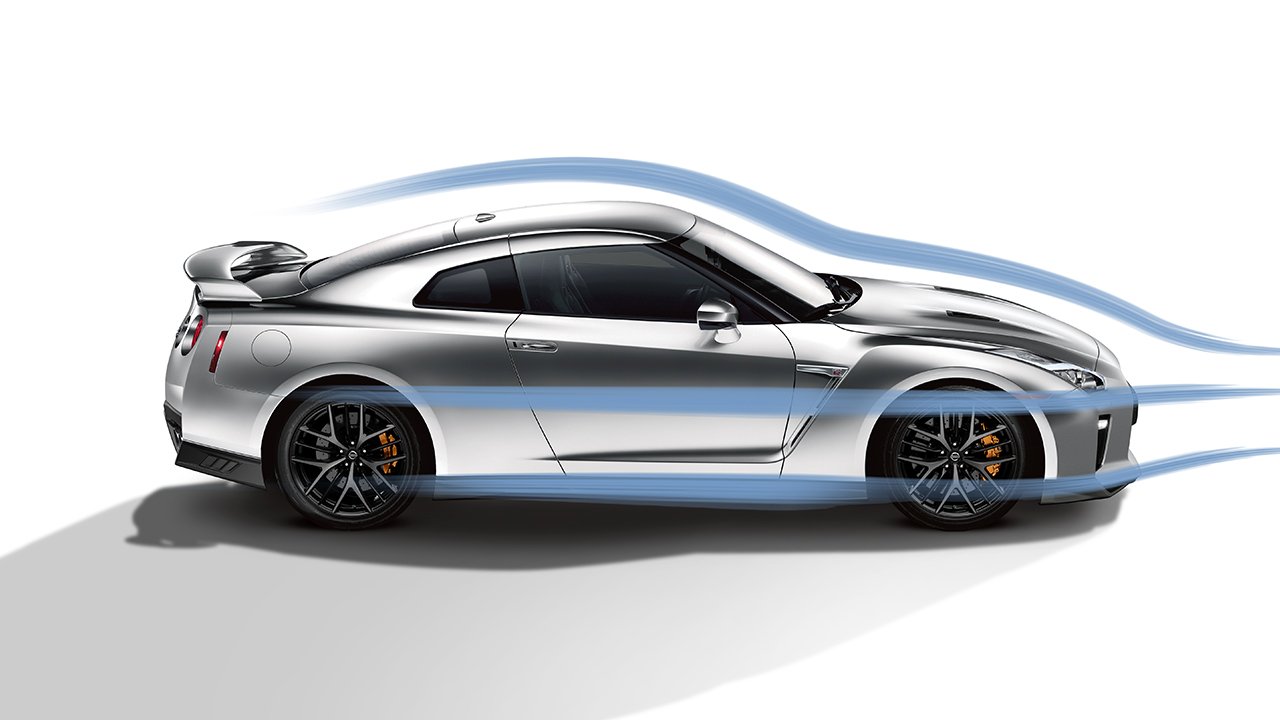 The immense power and capability of the Nissan GT-R comes with a level of safety, control, and convenience features designed to inspire confidence every moment you're behind the wheel.
With the RearView Monitor, when you back up, a camera mounted discreetly on the rear of the vehicle helps you see what's directly behind you. [*] The system also includes a convenient wide 180° view for an even better look.
Parking sonar gives you an added ally in your pursuit of parking, with sensors on all four corners looking out for static objects and giving you an audible warning when you're getting close.
Sometimes a collision is unavoidable. But with Nissan's Zone Body construction, at least it can be safer for everyone on board. This advanced body construction combines impact-absorbing structures with a high-strength cabin, which helps provide protection for you and your passengers.
If your Nissan GT-R senses a collision may be imminent, it can activate pretensioners to "cinch" up the seat belt to help hold you in place. If a collision does occur, seat belt force limiters can "give" a small amount to help reduce the force of impact.
Nissan Advanced Air Bag System includes dual-stage supplemental front air bags with seat belt sensors and an occupant-classification sensor. [*] The inflation rate of these dual-stage air bags adjusts depending on crash severity and seat belt usage.
Advanced Vehicle Dynamic Control (VDC) system not only helps you maintain your steered path, in R-Mode, it actually sends more power to the appropriate wheels when it senses oversteer or understeer, helping you drive with superior power and control.
All the power in the world is useless if you can't get any grip. So when TCS senses drive-wheel spin, it responds by helping reduce throttle, which helps you both regain grip and maintain control.
In sudden-braking situations, ABS pumps the brakes quickly to help prevent wheel lockup and help you maintain control.
Electronic Brake Force Distribution (EBD) monitors weight distribution and adjusts rear brake force to compensate for added weight from passengers or cargo.
Vehicle availability may vary by region.